High quality at every stage of production
A word from our Quality Manager
« Quality is at the heart of our concerns. A standardised quality system, adapted to our different processes, is in place in all our workshops, from the slaughterhouse to our processed products workshops »
Our Quality Assurance
Our work tool is ideally located in the centre of France, in the heart of the breeding of the best French suckling breeds. To mention only the most famous for their taste qualities: Charolais, Limousin, Salers and Aubrac form the basis of our complete range of products.
We also have access to all the other mountain breeds born and bred in the vast lands of the Massif Central, France (Montbéliardes, Ferrandaises, Abondances, etc.). But also to all the other breeds that could ideally be introduced into our regions for the reputation of their meat or that could be easily obtained thanks to our central geographical location (Bazadaises, Parthenaises, Blondes d'aquitaine, Angus, Hereford, Simmental, etc.).
We select our best quality meat from the pastures of the major French regional breeding areas.
We have a latest-generation ERP (Enterprise Resource Planning) system that allows us to ensure precise traceability of meat throughout our integrated manufacturing processes (slaughtering, boning, cutting, skinning, processing).
A HACCP methodology based on continuous quality improvement
The sanitary quality of our meat is of paramount importance to us. Every day we apply a HACCP (Hazard Analysis Critical Control Point) methodology based on continuous improvement around the following main principles:
Risk and hazardous analysis
Identification of critical points
Determination of maximum thresholds
Creation of a monitoring system to improve hazard control
Implementation of corrective measures when the monitoring system reveals that the value of the critical thresholds is too high
Verification of procedures to ensure that HACCP methods are effective
Creation of a file containing all the documents related to the HACCP procedure, as well as all the records required for health checks
We also have our own internal analysis laboratory to ensure complete control of our methods and optimum responsiveness.
Each year, our HACCP methodology is tested, either through independent trade audits (internal and/or external), or through customer audits carried out in accordance with the IFS Global Market Food standard, which will be certified in the very near future for all our sites.
The Quality and Origin Identification Signs (SIQO) and their own quality procedures
In addition to the rigorous selection of animals, we market more than 20% of our products through SIQO and our own quality procedures. Because we want to move towards ever greater quality, we work every day to set up new quality channels with strict specifications for the common interest of our farmers, our customers and consumers. In the short term, all of these quality initiatives will exceed 30% of our sales, with a medium-term objective set at 50%.
When producing, we respect our commitment to comply with the procedures of the traceability guide linked to the "Viande Bovine Française" signature.
This commitment exposes us to controls by the competent administrations and agents authorised by Interbev.
In the field of organic agriculture, we have established a historic partnership with the Union of Organic Farmers.
Organic farming uses cultivation and breeding practices that respect the natural balance. It excludes the use of synthetic chemicals and GMOs and limits inputs.
No tethered animals
Feeding of the herdGMO-free
60% minimum of animal feed produced on the farm
An ancestral know-how brought up to date.
Thanks to the unique maturing process of the meats, our products have character. You will be able to appreciate the most intense and complex flavours during your degustation.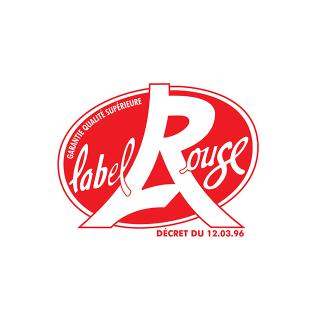 The Label Rouge is a national quality mark designating products which, by virtue of their production or manufacturing conditions, have a higher level of quality than other similar products usually marketed.
No GMO or palm oil in the herd's diet
minimum 80% of feed produced on the farm
5 months of grazing minimum
The animals come from selected farms: they are raised and fattened in mountain areas during the last two thirds of their lives.
Les animaux sont mainly grass-fed and hay with grazing in the summer months.
50% of the food is produced in mountain areas.
A Fair, Ethical and Sustainable approach
Fair: The approach aims to value beef from suckler cows at a fair price for farmers, based on its production costs.
Ethical : The approach aims to bring transparency to the relationship between farmers and distributors. The signature « Eleveur & engagé », is displayed on the product or on the distributor's shelf, indicates a quality product.
Sustainable: The approach aims to promote an environmentally friendly breeding model.